Features of our Balinese Bed & Breakfast:
Selamat Datang. Welcome
Nestled at the edge of the rainforest, hidden behind the lush tropical gardens, is the main house, which hosts our luxury bed and breakfast rooms. The main house features a generous dining room, secluded decks, a games archive, and the largest private DVD library in the hinterland.

All guests of Maleny Tropical Retreat are welcome in the main house common area. Our DVD library is for the benifit of all guests at Maleny Tropical Retreat and all DVDs can be borrowed and taken back to your room. Enjoy breakfast in our warmly appointed dining room and enjoy the beautiful view of the lush valley below.

Our backyard:

Enjoy exploring the beautiful natural sights our 85 acres of rainforest and pasture has to offer. Take our lovable dogs Benji and Ernie on a walk down through the lush forest to the beautiful banks of the Obi Obi Creek. Swim in the crystal clear water in the shade of stretching trees and tip toe along the smooth rock pools for a rainforest exploration. Picnic on the sunny river banks with one of our picnic hampers before you wind your way back up the valley to your welcoming rooms. You can even barbeque with a view in our new barbeque pavilion that overlooks pastures and Lake Baroon.

Breakfast:

A delicious continental breakfast is provided for every guest of Maleny Tropical Retreat. Our continental breakfast includes cereals, fresh fruit and yoghurt, fruit juices, toast, and freshly baked croissants. We also have a cooked breakfast menu* for you to choose from. We use the best local produce so our menu changes with the seasons. You'll find our menu of mouth-watering meals in the compendium provided in your room or villa.
*additional charges apply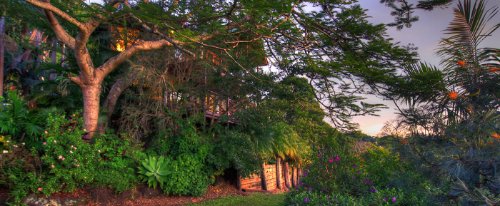 Click image right to take a private tour of Maleny Tropical Retreat now.
Additional services:
Make your holiday at Maleny Tropical Retreat extra indulgent with our additional services.*
Picnic hampers and barbeque packs: a great treat for a bush walk or day trip into the hinterland.
Private massage and beauty treatments: for an extra indulgence, enjoy a relaxing massage or beauty treatment in the comfort and privacy of your own room or villa.
Gift vouchers: give the gift of a tropical holiday at Maleny Tropical Retreat to someone special.
Dietary requirements: we are happy to cater for dietary requirements. Please let us know upon booking.
*Additional charges may apply.
Prices available on application.