Our Balinese Bed & Breakfast:
History of Maleny Tropical Retreat
In 1999, Ken set off on a roaming adventure to search for a new lifestyle and a property for his dream business.

The seed for the Maleny Tropical Retreat was planted when it was recommended to detour through the Sunshine Coast Hinterland, where Ken discovered the lush and idyllic countryside of Maleny and Montville.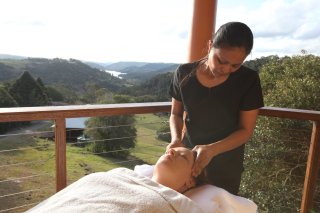 The dream of building a holiday retreat took root on a walk through neglected farmland with superb views of Lake Baroon. A run-down farmhouse nestled in the edge of a lush tropical forest looked like cabin sheltered in a Balinese hillside.

By 2001, Maleny Tropical Retreat opened its doors as a two-bedroom, Balinese-styled, 4 ½ star Bed and Breakfast, surrounded by beautiful tropical gardens. Over the years, the business and gardens grew — more rooms added to the restored farmhouse, as wells as four luxury Balinese Villas that now dot the hillside.

As the Maleny Tropical Retreat flourished, Ken's sisters Dawn and Daphne joined the business, and the family trio now work together to treat guests to relaxing and peaceful holidays. Customers and Trivago have recognised the warm and welcoming customer service and accommodation, and voted Maleny Tropical Retreat the Number 6 Top Hotel on the Sunshine Coast in 2015. The Trivago ranking is the aggregated rating compiled from over 250 online booking websites.

Ken, Dawn, and Daphne are proud to welcome you to the Maleny Tropical Retreat, and invite you to come and relax in its tranquil surrounds.
Book now for your relaxing retreat.
Terms & Conditions:
check-in from 2:30pm
check-out by 11:00am
early arrival and late departures by arrangement
all bookings include continental breakfast per person
a 50% deposit is required within five days of booking
deposit is transferrable to another date, provided notice is given at least 14 days before original booking date
cancellation fee is $25
credit card and direct deposit facilities are available for deposits and paying balance on arrival
rates are firm at the time of booking, but are otherwise subject to change without notice
able to cater for pets in Tuban Cabin only
children may stay in the Abadi Villas only
smoking outside or on private decks only
all prices are in Australian dollars and include GST where applicable