Activities around the Maleny & Montville Hinterland:
Local activities, Restaurants and More attractions ...
Maleny Tropical Retreat is located between the two holiday hubs of the Sunshine Coast hinterland, Maleny and Montville. Driving twenty minutes in any direction will take you to an incredible amount of amazing and entertaining attractions. The Kondalilla Falls Great Walk is a five minute drive north along the range, and a five minute drive south will take you to the best view of the Glasshouse Mountains at Mary Cairncross Park.

The indoor attractions of the hinterland are just as spectacular as the outdoors—you can visit picturesque wineries, fascinating cheese and dairy factories, beautiful art galleries, and unique boutiques all along the range.

Find a fantastic feast or treat just a hop and a skip away from Maleny Tropical Retreat at local pubs, restaurants, cafes, chocolaterias, and ice creameries.

For more information on local attractions, take a look at the Maleny Visitor Information Centre.
The Blackall Range in the Queensland Sunshine Coast hinterland is a place to escape city life and experience the tranquillity of nature and the welcome of country hospitality. Some of the Maleny attractions on the range and in nearby areas are listed below. There are various things to do and see while you are enjoying your stay with us. You may also like to take a look at our additional services.

AUSTRALIA ZOO - Located just 20 minutes drive from Maleny Tropical Retreat, Australia Zoo is a must do activity when visiting the Sunshine Coast Hinterland area.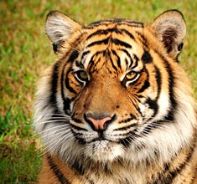 There is no other zoo like Australia Zoo. They pack in stacks of wildlife action every day and move at a great rate of knots - there are always plenty of exciting wildlife shows to see, friendly and knowledgeable zoo keepers to chat with and heaps of drop-dead gorgeous animals that can't wait to get up close and personal with YOU!

As we are accredited booking agents, we can issue & print your admission tickets before you leave saving you valuable time and not having to queue when you get there.

Check out Australia Zoo - it's the wildest show on Earth!
MAPLETON - Perched on the northern-most point of the range, it has spectacular views of the coast and is the gateway to the Mapleton Falls National Park and Mapleton State Forest. Its famous Lilliponds Park is a popular picnic spot in the centre of the village with a children's playground, electric BBQs and an abundance of water birds to feed.

FLAXTON - Restaurants, gift shops, galleries and a winery form the heart of this hamlet. The main road meanders through Flaxton offering coastal views and quiet country scenery. Look for the fine examples of early Queenslanders - solid timber houses with spacious verandas and tongue-and-groove walls.

KONDALILLA - Kondalilla Falls National Park provides a range of walks to suit hikers of all abilities. The Falls plunge 90 metres into a valley of rainforest and the rock pool at the head of the Falls is a nice place to cool off on a warm day.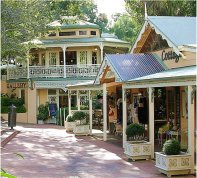 MONTVILLE - Montville's cool mountain air, sparkling views and array of quaint shops and eateries draw people from far and near. First settled in 1887, Montville is today a blend of historic sites, village charm, chic cafes and fine art and craft galleries. Take a stroll along the main street and you'll see Tudor, Irish and English cottages, Swiss and Bavarian chalets, an old mill water-wheel, colonial buildings and classis Queenslanders. Western Ave gives access to picnic areas and rainforest walks at Lake Baroon and the Obi Obi Gorge as well as the winery with its stunning views and great wine.

MALENY - is an intriguing mix of rural life, commerce, the arts and co-operative ventures. A real escape from the ordinary, Maleny has award-winning restaurants, a winery, markets and arts craft galleries to browse through. From Mountain View Road enjoy the famous views of the Glass House Mountains and rainforest walks at Mary Cairncross Scenic Reserve. Lake Baroon, accessed from Maleny's main street offers sailing, fishing, swimming and canoeing. The rolling green hills and rural views will charm you into relaxation as you explore the southern end of the Range.

KENILWORTH - Nestled picturesquely at the heart of the Mary Valley, Kenilworth offers peaceful panoramas of dairying country set against craggy mountain ranges. The Kenilworth State Forest and Conondale Ranges National Park offer rich diversity for the outdoor enthusiast. It was the locals' special brand of hospitality that earned Kenilworth the title of "Queensland's Friendliest Town" in 2000.

Links to hinterland attractions ...

Settler's Rise Winery

Maleny Cheese

Maleny Dairies

Mystic Mountain Tours

Links to local restaurants ...

Terrace Restaurant

King Ludwig's Germany Restaurant